Seriously. Playdough is so cheap to buy, I usually don't make it. But when we run out I'm definitely NOT running to the store just to buy some. And some times, the play dough bug bites and you've just GOT to play with some play dough.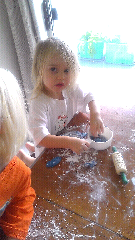 This takes less than 10 minutes (That includes the time it takes to gather all of the ingredients. Honestly, probably less time than that.) and it is TRULY the BEST homemade play dough recipe.
Play Dough
Ingredients:
1 cup white flour
1/4 cup salt
2 tablespoons cream of tartar
1 cup water
1 tablespoon vegetable oil
2 teaspoons food coloring
Directions:
Mix flour, salt and cream of tartar in a medium pot.
Add water, food coloring and oil.
Stir over medium heat for 3-5 minutes. (it will start looking like a globby, lumpy mess. Just go with it. Keep stirring.)
When the mixture forms a ball in the center of the pot, take it out and put it on a lightly floured surface.
Play to your hearts content! (Play dough will obviously be on the hot side straight from the pot. I usually break it up into a few pieces to help it cool faster.)
When you're finished playing, be sure to store in in a plastic bag or some sort of airtight container in the fridge.